QPro POS+:
Retail Flooring Software Made Simple.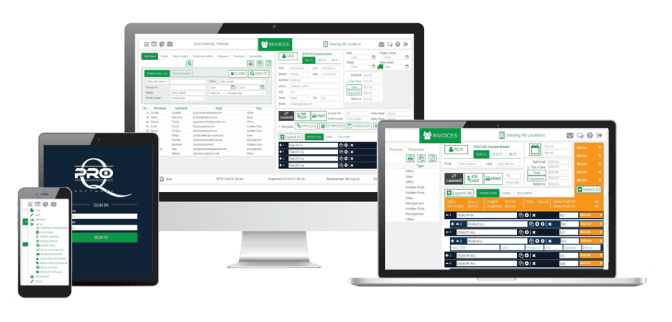 Featuring the latest and greatest web technologies, QPro POS+ is a cloud software point of sale program that delivers intuitive ease of use, paired with the cost-savings, flexibility, and mobility of a true browser-based system.
QPro POS+ is front-end POS software designed primarily for companies who wish to use it alongside other accounting software (such as QuickBooks). It's an affordable, ideal solution for businesses wanting to enjoy powerful time-saving features and benefits specific to the floor-covering, home furnishings, or home improvement industries.
REQUEST DEMO
QPro POS+ Features
Streamlines, organizes and manages:

Inventory Management
Our extensive inventory management capabilities deliver outstanding accuracy and superior tracking.

Customer Invoices & Proposals
User-friendly sales orders allow you to quickly fill out and customize bids or invoices. Line items can easily be moved, grouped, expanded, or collapsed. You can instantly populate sales orders with saved product, pricing and labor information. It's never been so easy.

Purchase Orders
Purchase Orders can be emailed or printed, and information is seamlessly integrated throughout your POS+ system.

B2B Transfers from Suppliers
Imported price lists and product catalogs from suppliers save hours of time in data entry. These fcB2B downloads include special pricing from territory managers, information on discontinued products, and more.

Job Costing
QPro's instant job costing can be completed right on the showroom floor while filling out a proposal. (Thus allowing you to know beforehand what your profit will be, so you can make any necessary adjustments before finalizing the sale.)

Sales Tax Reporting
Did you know that due to unique parameters in the flooring industry, many dealers pay too much sales tax, too early? QPro's automatic sales tax and use tax calculations can correct mistakes and save you money. QPro also reflects California CARE tax tracking when applicable.

Commissions
Save time and reduce errors. Sales commissions can be automatically calculated, based upon profitability.

Installer Billing
Labor tracking modules efficiently manage and track installer billing.

Kit Catalogs
QPro's exclusive kit catalogs allow you to build "kits" with products, labor, and accessories all linked together. You quickly pull up the kit, and then make any necessary adaptations, saving tons of time.