User-Friendly Software for Residential Flooring
You've got QUESTIONS. We've got ANSWERS.
Is QPro Lite the right fit for your residential floor store? Here are some questions we're often asked about QPro retail flooring software. And if you have a question that we didn't cover here, please reach out! We'd love to hear more about your company and your needs.
QPro Lite tracks and manages your operations. Automating your residential flooring business saves you valuable time, allowing you and your staff to focus on more important things. It also gives you the information you need, instantly. So inventory, sales, PO's, proposals, commissions, sales tax, leads, and customer details are just a click away. Most importantly, QPro allows you to grow, while still keeping your overhead low.
See features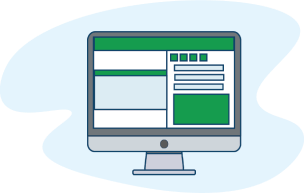 Job costing is one of the most impactful things you can do to increase the profitability of your retail floor business. With QPro, the information is set up beforehand in your software, and so when you create a proposal or sales order, and add the materials, amounts and labor, a job costing window automatically pops up on the side, showing your margins, both before and after commissions. That way you can make any adjustments needed on the fly.
Learn more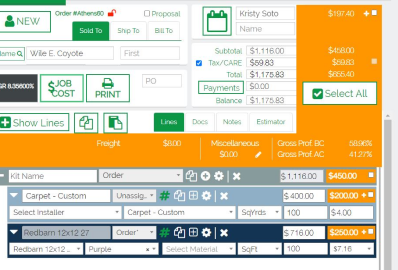 Here's the sales order screen on QPro. It is extremely intuitive. For repeat clients, contact information can be saved so that it pops up for future quotes. Note that the line items of the products can be expanded or collapsed, and moved around however you'd like. When you select a product, it links to the inventory in your warehouse so you know how much you have and what needs to be ordered.
And with QPro's exclusive "kit" feature, you can create (and save) pairings of products and labor. For instance, a kit could include each component you'd need to do a shower, with the appropriate labor rate. Then for future projects, you simply pull up the kit, and adapt and update. It saves a ton of time.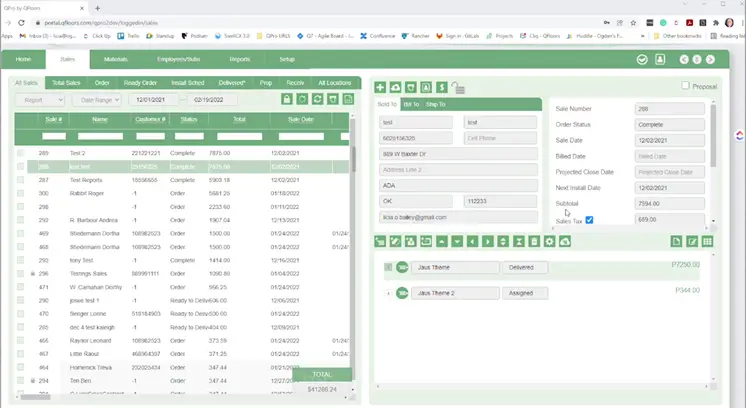 Yes. QPro Lite is the most affordable POS retail flooring software on the market. Consider this - for much less than you spend on lunch each week, you can have a software system that will bring significant, long-lasting benefits to your business.
View pricing
QPro's mobility and flexibility are two of its greatest features. You can use it anywhere with an internet connection, on any device with an internet browser. So Mac or PC, phone, tablet, laptop, or desktop computer… QPro works with them all.
Learn more
QPro Lite software follows the sale from start to finish, and payments are applied to the job and easily tracked. Commissions and sales tax are also logged.
In addition, our optional QPay credit card processing integrates closely with QPro, and provides a long list of benefits.
See how it works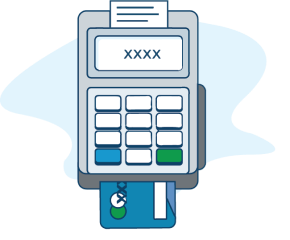 Yes! This page talks more about our QuickBooks™ integrations.
*QuickBooks is a registered trademark of Intuit, Inc.
Learn more
QPro Lite is a great way for residential flooring dealers to automate time-intensive tasks, streamline business processes, and share information throughout the system. In addition, its fcB2B features enables the electronic transfer of information from the manufacturers and distributors, so price lists and product catalogs are updated at a click of the mouse.
Schedule custom demo
We'd love to partner with you as you grow your residential flooring business. Reach out today, and let's talk.